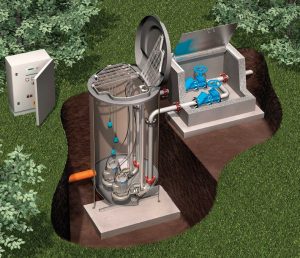 PUMP STATION FOR BRITISH HIGH COMMISSION, LAGOS
Project Overview
Biotech was engaged by British High Commission to resolve the persistent flooding issues caused by rainwater at their Walter Carrington Office, Victoria Island Lagos. Throughout the duration of works on site, all activities were carried out discreetly ensuring business continued as usual at the premises.
We are delighted to have recently completed & commissioned the plant, and we are impressed that Biotech Solution was able to make a positive contribution through her display of unrivaled expertise, unwatchable technology and wealth of knowledge. Are you also experiencing gravity issues with rising surface water, rainwater, sewage, or effluent in low lying or flat areas? Look no further, Biotech Solution range of packaged Pumping Stations is well designed to meet the expectations of our Client's requirement.
Our packaged pumping systems can be built in a housing, manufactured from quality adaptable, impact-resistant materials such as precast concrete, GRP (Glass Reinforced Plastic) or Polyethylene. Each pump station in the Biotech product range is individually designed to make sure you receive a bespoke solution that cost effectively meets the requirements of your project with the highest quality product on the market. Please Contact us on: 01-2914544-5 or 08168285849.